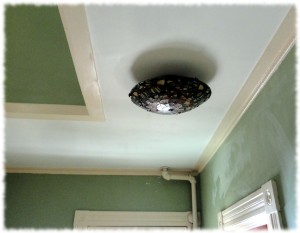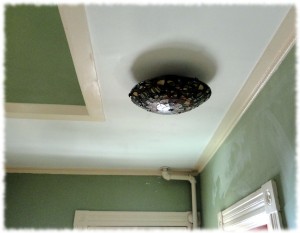 Over the past few years I have been trying to write down what paint color we use when we are painting rooms (or the outside of the house). It finally paid off. When painting the trim around the ceiling in the hallway, I went to the basement to search for the trim paint, "I'm sure I have some of that left over around here somewhere…"
Of course, none could be found. So a reasonably quick Google search of this blog digs up "Classic Ivory" trim paint. Voilà. A quick trip to Sherwin-Williams and we have matching trim paint.
So, I figure I'll record paint colors (as best as I know them) for the house: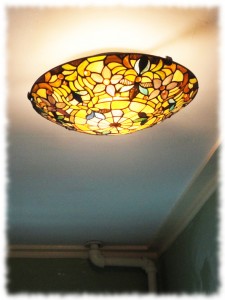 Exterior:
Walls: Concord Buff (SW 7684)
Trim: Rookwood Dark Green (SW 2816; satin)
Accent: Rookwood Dark Brown (SW 2808; satin)
All interior trim is Classic Ivory (SW 0051, semi-gloss) except where noted. Ceilings are white (Sherwin-Williams ceiling paint)
Living Room: Mulberry Silk (SW 0001; satin)
Kitchen:  Copper Pot (SW 7709; satin), Empire Gold (SW 0012; satin).
Hallway: Majolica Green(SW 0013 -maybe )
Dining Room: Custom paint from Home Depot to match an unknown Sherwin-Williams paint selection (note to self, next time just go to Sherwin-Williams). Anyway, I'm not super happy with the paint colors I picked for the dining room – it would have turned out much better if I had gotten Susanna's input before choosing a color (but she was in Sweden, and I needed to paint the room).
Study:   Unknown; Trim: Not repainted
Will's Bedroom: Down Pour (SW 6516, satin) and Empire Gold (SW 0012; satin) – we used left over paint from the kitchen.
Ben's Bedroom: Paint from Home Depot (Glidden Freshaire Choice): Northern Pear Tree and Roof Top Garden
Master Bedroom: Lantern Light (SW 6687)
One of the things I love about Sherwin-Williams is that all of their colors are on the Internet. And if I can't find the colors there – they have a record of my previous paint purchases. I have been very happy with the quality of the paint and the service and will not buy paint from anywhere else.