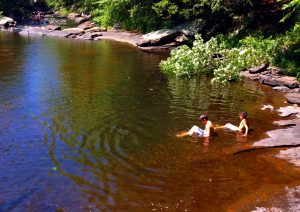 With the humidity somewhere well above 100% (at least in the house this morning) and the temperatures soaring into the 90's (mid-30's for those across the pond using Celsius) we decided to let the air-conditioning take a break from its thankless task and head north to find some shade and water to temper the heat.
I did some digging on the Internet and found a listing for Diana's Pool – a spot on the Natchaug River in Chaplin, CT. We got to the pool in late morning, beating the crowds (and getting good parking).
It was a great place to get a break from the heat. The water was cool, there was plenty of shade, and lots of waterfalls to play around in. The boys claimed that they overheard some of the other visitors talking about how it got its name – the claim was that someone named Diana drowned there. Of course, I'm sure they heard it from the college kids that were playing around (and drinking crap beer – but of course I drank crap beer when I was that age) and a morbid story is always the better option. But an article from the Hartford Courant from about 2003 give many rumors on how the pool was named (and only one of them was morbid). We had fun, no matter how the pool got named.
The crowds picked up around 1pm, and we decided to head home around 2pm.  Now both boys are trying to beat the heat by playing Minecraft (with Ben live-streaming it on YouTube) in their air-conditioned rooms while I wait for the workshop to cool off enough for me to head out there.