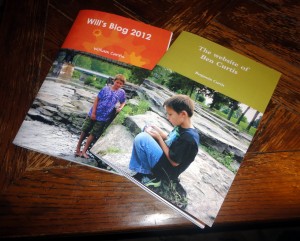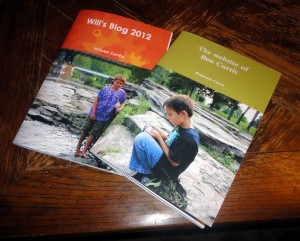 The boys' blog books arrived today from Lulu.com. They are perfect – the boys immediately took them out and read them. And Will didn't even complain about having to write in his blog tonight.
Now I feel obligated to write in my blog.  I have taken a nice 10 day vacation between posts. I think it was a combination of the cold weather, maybe being a little burned out of writing, and the stress of worrying if (thanks to congress failing to do their job) there will be a furlough of federal employees starting this April.
Susanna has started school again – her last semester. That means that she won't be free to work on house projects during the week. And probably not much during the weekends as homework starts to pile up.
We have made some progress on Will's room. I have most of the drywall up, and the window repaired/repainted. I'll try to get pictures up later this week.  I hadn't spent much time at all in the workshop – I've been waiting for the weekend temperatures to get above freezing. Working on the power tools when it is too cold outside sucks. Even after I get the workshop warmed up, the heavy tools are still bitter cold to the touch.
The weather today gives hope for warmer weather. I know by Sunday we will be back into winter, but hopefully not for that much longer.