I had the day (mostly) to myself today. Susanna and Izzy departed early this morning to go to New York for Swedish School and Will, for most of today, was busy doing his own things. I had carved out today to be a day to get back into restoring the sailboat. I've been working off and on (mostly off) ripping out wiring and patching some holes. Today I got back into restoring the deck. The old non-skid is shot, so I'm slowly sanding it off and my plan is to re-gelcoat the topside. I am using brushable gelcoat. It goes on thick and doesn't level as well as paint does, but hopefully it will last another 40 years. The trick to getting it to look good is to sand a lot and then buff out the top after it cures.
Today's project included removing the port side handrail and sanding that section of the cabin top. It was warm enough to apply the gelcoat, so I went through a bit more than half a quart on the bow. It is slow going. The gelcoat starts curing very quickly, so I don't get a lot of time to work it and have to do a small section at a time. Hopefully it will all look good once I'm done sanding it out. Maybe it would be more efficient to prep the entire topside before gelcoating, but that isn't really how my brain works (got to love ADHD).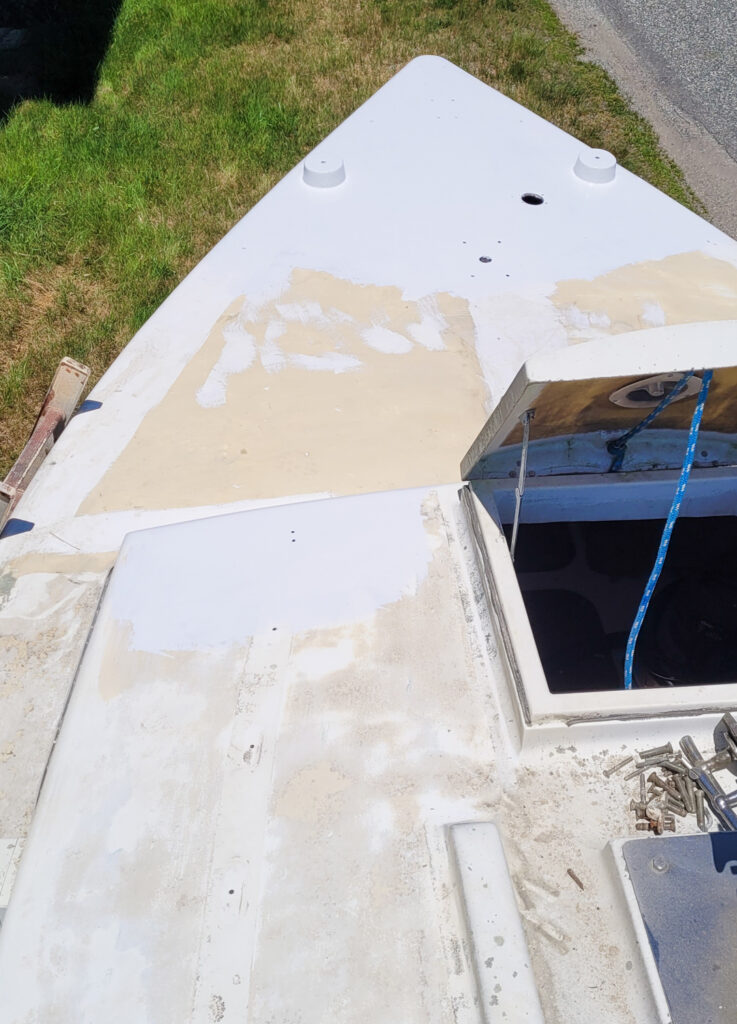 I was also able to lay the final layers of fiberglass on a hole in the cockpit/cabin that I'm repairing. That will need a layer of fairing compound and a bunch more sanding before it is ready to gelcoat.
I was able to get a little time with Will to work on his boat. We worked on gelcoating his boat (we had done it a few years ago, but he decided he wants it white and not blue (the blue is way too hot on the sun). It was fun to get some time with him in the afternoon before he had friends over for the evening. Kevin Farrar (Farrar Sails, New London) is planning on coming by on Thursday evening to measure for rigging and possibly new sails.