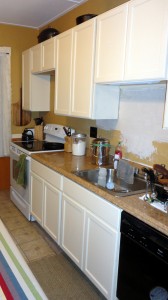 It has been a busy week. The boys weren't with us last weekend, so we had some time to get chores done. The missing upper cabinet didn't get in until Tuesday, so no kitchen progress. But I did get lots of time in the workshop on Sunday. I haven't had a full day to work in the shop in a long time. It seems that most free days are filled with home improvement projects. It was nice to take a break from home projects.
We picked up the new cabinet on Tuesday, and hung the cabinets that night. Susanna painted the cabinets and the doors this week, and tonight (after the boys went to bed) we reinstalled the doors.
I still need to finish the wall under the cabinet, and caulk the joint between the counter and the wall, but the end is in sight.  It is already a much more useful kitchen layout. Next, I'll have to finish the island that I have in parts in the workshop. Maybe I can get that done in early January.
I'll post pictures from workshop projects next week. The boys and I worked on Christmas projects, so I don't want to post pictures until after the holiday.