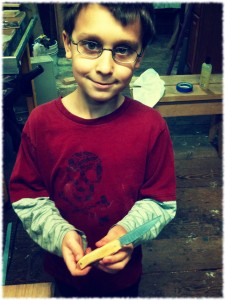 I've had a couple of evenings and a full Sunday to work on small projects in the workshop. Some of the projects are my (continual) reorganization of the workshop, and cleaning up from house projects.
But I was able to get some work done. The boys and I worked on their Christmas projects. We almost ran out of time to finish them – it has been a busy month and they are missing two weekends in a row here.  We get lots of time after Christmas, but that doesn't help with the Christmas projects.
My friend, Mark, has been over and we have been working on his drunken cutting boards. We should be able to finish his boards tomorrow – then it is time for me to make my boards.  They will have to be "after Christmas" presents.
Last weekend I built two sets of Jenga blocks and boxes. One was made from sapele (or mahogany) and the other from cedar. The sapele on is pretty heavy – we have to play it on the floor or risk hurting people when it collapses.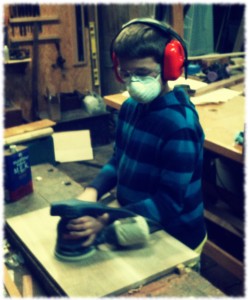 I've been building a better (now my third try) clamp rack in the workshop. The last one wasn't bad, but took a lot of wall space. I've also been trying to add some insulation – just enough that my kerosene heater will be able to warm up the space.
It is starting to look like I'll have the entire week off next week.  Lots of time to finish the kitchen and get some workshop projects done. Susanna is still waiting on an island for the kitchen.