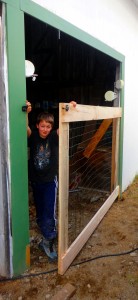 The boys are here today – we were able to enjoy a full week together this week – so it wasn't a day I could totally dedicate to home projects. But it was a quiet day for the boys, and they spent most of the day playing together, or hanging out helping work on projects.
During the colder months of the year, the dogs spend the days on the three season porch off of the kitchen. However, it gets too hot in the summer for them, so I fenced off the last bay of the garage to make a dog pen. I had taken down the fencing that had blocked the main door earlier in the year so we could paint the trim. I had always hated having the doorway entirely fenced off, and the quick fencing job I had done earlier looked terrible.
There is a side door to get into the bay, but a full gate would allow easier access to the space. This morning while at Home Depot, the boys and I picked up hinges and a latch to build a gate. After lunch I spent some time working on building a gate to the bay. I milled some of the rough lumber that I had picked up a couple of weeks ago. I initially pulled out some oak to build the gate, but decided to go with soft maple (the maple is lighter). Neither are good outside woods, but the gate will eventually be painted.
The gate isn't completely finished. I think I need to add a diagonal cross brace to keep the gate from sagging (though I don't expect to use the gate too frequently, so I may hold off on adding that). I will also add a bottom latch/lock so the dogs can't push their way out from the bottom corner. I also need to put some bricks/stones under the gate so Tucker won't dig his way out.
The gate was on my original (proposed) list of projects to finish on a furlough day. It is nice to move projects off the to do list.
And yes, I was finally able to get some quiet time in the evening before dinner to sit by the fire pit and enjoy a beer.