The boys are on spring break this week. And finally, it seems that the spring weather is here.
I am on vacation all week. However, Susanna still has school this week – so it isn't really a vacation for everyone.  But, even with Susanna in school, we have a busy week planned. I'll need a vacation to rest after this week.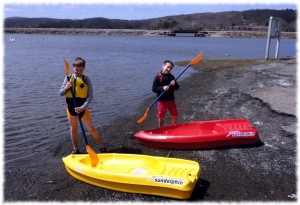 This morning the boys and I ran errands (while Susanna ran her errands) – which included hair cuts for all of us (and a surprising long wait to get our hair cut) and dropping off recycling.
This afternoon I took the boys down the road to one of the local boat launches on an inlet off of the Thames river. They both had saved their allowances and purchased kayaks earlier this year.  They were very excited to try them out.
It isn't summer yet, and the weather was only in the low 60s today, and the water is very cold, so not a good day to swim. They both wore a wetsuit (shorty wetsuits) and several layers of clothes to keep them warm. Luckily the inlet was protected from the wind (and current of the river), so they could explore without freezing.
The kayaks are perfect for them. They are light enough that they can work together and carry them. They are also short enough to fit inside the sailboat (though barely). The only problem is that the paddles aren't the best. I will probably glue them together – they kept rotating on the boys which made it hard to paddle for a long time. But what do you expect for $100 (including shipping).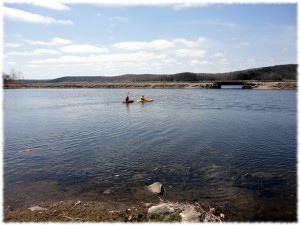 Tomorrow we are planning on putting the sailboat in the water (I'll keep my fingers crossed). It seems that the boat is ready, or rather, as ready as it will get this year. I have the mast down and tied for transport.
Tomorrow morning I have to get the last few things put together on the boat, and will head down to the boat launch just before lunch. Will and Ben will help step the mast, and hopefully we will enjoy a short sail to Pine Island. Though, looking at the forecast, we may have to motor to Pine Island (not much wind forecast for the afternoon). Either way, I'm hoping to enjoy the day.