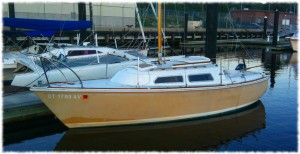 Today I finally put the boat in the water for the summer. I reserved a slip at the submarine base for two months starting today.
The plan was to put the boat in the water right after work. However, there was a social at the officer's club with free beer. So that took priority over putting the boat in the water.  But only for a bit.
I had parked the Jeep at the base marina and walked (and hitched a ride) to the social. I left the bar with Mark Matkovich (in his "much-better-at-towing-than-my-jeep" truck) and we headed home to pick up the boat and drove it down to the boat launch. It was much quicker this time than the previous launch. We had the boat in the water and the mast up in about 10 minutes after getting to the launch. It helps having two adults to do the launching and setup.
We took short trip up the river to the marina; spending a bit over an hour mostly motoring in the river. We did get the sail up for a little bit. Mark's wife, Jessica, and baby, Michael, joined us for the trip. We even got to enjoy pizza with Susanna at her work after the sail.
So here is the trip for today. The GPS track seems a bit screwy. We didn't change altitude that much.  Maybe the old iPhone can't keep up with the navigation software.
Start Time: Jun 14, 2013, 6:24 PM
End Time: Jun 14, 2013, 7:38 PM
Active track info:
Distance: 4.2 NM
Total time: 1H 13M
Average Speed: 3.4 kts
Max Speed: 7.1 kts
[sgpx gpx="/wp-content/uploads/gpx/1371260541-11418.gpx"]