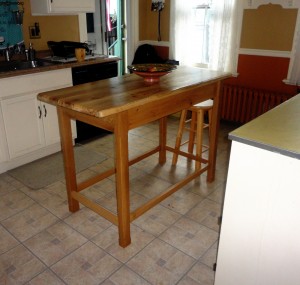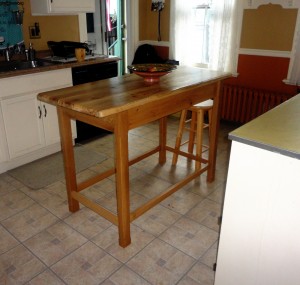 I have been working on a kitchen island for quite a while now. I finished it the week before the wedding. It replaces a table in the kitchen – and it is nice to have a proper-height work surface in the kitchen. It is also narrower than the old table, which fits the size of the kitchen better.
The base is made from white oak, with pegged mortise and tenon joints. The top is made from hickory.
I'm pretty pleased with the project. The top is maybe 2-inches narrower than I think would look the best. Another project may be to make a new top, or add a strip of cherry or sapele in the middle to widen the top.
The joinery isn't perfect, but it is better than some of the work I've done in the past.  I think a shelf on the bottom would look nice (and be useful), but I forgot to build in a shelf when I constructed the base.
It is nice to finish another project.