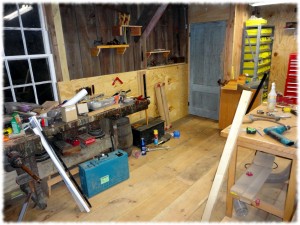 I am rearranging the workshop. Again (or rather, still – if you read my post from last week). I am making slow progress on the project, but am getting to the point where the workshop is getting back to almost usable.
I have enough of the floor installed to have most of the heavy tools back where they belong. The next project is to go through the pile of way too much stuff that I moved from the back of the workshop to the front. Hopefully I can find homes for everything, and maybe even find a way to get rid of some of the stuff.
I am only insulating the bottom half of the walls. In public, I would say that I am only insulating the bottom to preserve the look of the old walls. But, just between you and me, I am pretty lazy.  It would be a lot more work to do the upper half of the walls (all the electrical wiring is run on the upper half of the walls). Maybe next year if I am inspired to insulate the rest of the space.  I'll see how bad it is to heat this winter.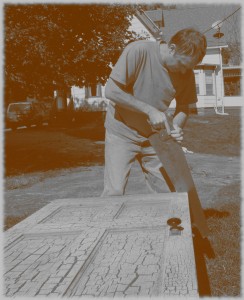 The new layout certainly opens up space in the back of the workshop.  I used to have the workbench out from the wall, which made it a little cramped between the workbench and the outfeed table of the table saw. I also had all the hand tools on the side wall, which meant always walking away from the bench to get tools I needed.  The tools are all hanging (or will be hanging) on the back wall, over the workbench.
Maybe I'll build a new outfeed table, and some nice shelves for all the woodworking books I have (that are sitting in a pile in the front of the workshop). I'll see what I feel like attacking once the shop is cleaned up. Maybe I'll just reorganize the shop again. It would be so easy to just turn into one of those people whose only connection to woodworking is reading magazines, rearranging the workshop, and periodically building shop furniture.
Ignore the pictures. The workshop is still a disaster. But an improving disaster. To keep the rest of the family busy, I arranged playdates for everyone. Will had Shane over. Ben had Slater over. Susanna got to babysit Michael. Targa and Tucker, well, life is just one big playdate for a dog. My playdate was with a bunch of air-dried pine 1×10's and a hand saw (not to forget the cordless drill).