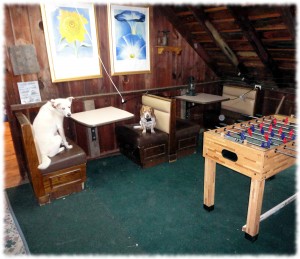 Susanna and I decided that one of the Christmas gifts for the boys will be to renovate their play room/game room. It is a large room over two bays of the garage and had become a collection of broken and dirty toys.  We are turning it from a play room to a game room/rec room – a place for them to hang out as they get older and want space with their friends.
With Christmas approaching, and not too many weekends free when the boys aren't here, I had to make some progress over Thanksgiving on the project.
The first step was to clean out everything, toys, furniture, etc. I vacuumed and shampooed the carpet. Early last week I found a couch and loveseat free on Craigslist. The first project was moving them to the loft. That took removing some barn boards on the stairs to get room to get them up the narrow stairs. I shampooed the couch and washed the cushions.  I moved the old TV and stand up into a corner – a place for them to watch movies or maybe set up a Xbox or Wii if we let them get one.  The couch and loveseat are ugly, but pretty well built – perfect for them to jump on and destroy (without me caring).
On Friday afternoon, I drove up past Providence to pick up some old restaurant booths that were offered for sale on Craigslist. I was able to get the two booths and tables for $45 – a pretty good deal. I spent yesterday morning and this morning moving the booths upstairs and installing the tables.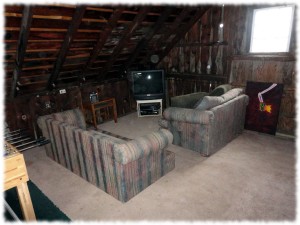 Susanna and I will move the soda machine up to the loft one evening when the boys aren't here, and we will need to wash the booths and tables as well as vacuum the floor again. But I think the room is pretty close right now. 

I still need to add more lights to the room, and an electric heater on a timer. The space isn't insulated, but it isn't that large, and will only need to be heated when the boys are using it.
I think there is room for a pool table still, as long as the table isn't too big. We will need to get rid of the futon (which I stuffed into a corner) if we add a pool table.  I may also add two more window son the south-facing wall to bring in more natural light. I'll see what the boys want to do with the space.
Now off to watch Ben play soccer and then back to the workshop to finish the second nightstand.