Okay, I really didn't improve the Internet today; we just improved our connection to the Internet. I know, I just was complaining about how the boys spend too much time on their electronics yesterday. And undoubtedly this blog is not what I would call an "improvement" to the Internet.
We unplugged the satellite dish last spring in anticipation of being furloughed last summer. And we have remained unplugged from cable/satellite since then. We are reliant on Netflix for DVDs and streaming. When we got the satellite several years ago, it came bundled with DSL. Yes, DSL is a bit slower than cable. But it works. And it was inexpensive. And I'm trying to spend less time playing on computers and more time living my life (so, what the heck am I doing writing on this blog?).
This month, Comcast was having a good promotional rate on their Internet service, so we decided to upgrade to Comcast over DSL. The boys had a half-day today. Since Tucker and Targa have proven to be poor adult supervision in the past, I was going to have to be home for the afternoon. What a perfect chance to get Comcast to install Internet. Of course, I didn't plan the timing perfectly, and the Comcast installer was nearly finished by the time I would have had to be here to meet the boys.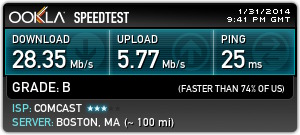 So, I tested my Internet speed with DSL prior to the install. Latency was pretty high, with a 58ms ping time. The download speeds were 2.5Mb/sec. The upload speeds were 0.42Mb/sec.  As you can see from the right, the new speeds are much better, with 28Mb/sec down and 5.7Mb/sec upload.  The real test will be when streaming Netflix, but so far I can't really complain. Now time to go download some big files.