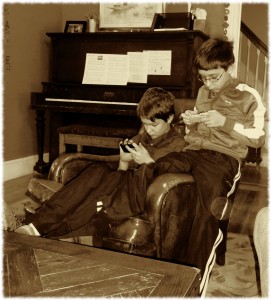 Susanna and I get another quiet day at home thanks to a layer of snow and rain.  The last couple of extra days at home I had been motivated to get lots of projects done.
Not so much today. I kind of feel like sitting around and taking it easy. That is, between shovelling the driveway. I learned my lesson last week, and shovelled before the rain started and the snow got heavy. But I probably should still go back out and get rid of the layer of slush that has accumulated over the past couple of hours. It will be a lot less fun to clear out once it freezes tonight.
We had the boys over this morning for a couple of hours – we had the day off, and their mother had to work. Will spent some time helping me shovel; Ben and Susanna completed a jigsaw puzzle. Both boys got lots of time to just hang out and play on electronics.