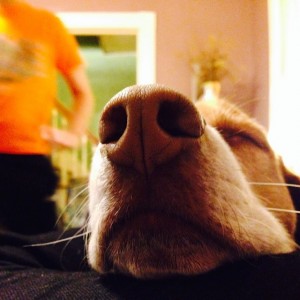 There was nothing really special about this morning. We put Tucker out early. Targa was still sleeping in Will's room.
The weather was cool and rainy, and Tucker was barking to get back inside not too much later. When Targa got up, he went out and Tucker followed. That was the start of the problem.
I brought Targa back in a few minutes later, but Tucker was nowhere to be found. He hadn't returned 45 minutes later when it was time for the boys to head out to the bus stop and me to work.
We waited at the stop. I waited for my neighbor to arrive. The plan was to ask her to put Tucker back in the house if she saw him during the day. But before I could ask her, I saw a slightly overweight beagle mix wandering down our road. Just in time.
So, thank you Tucker for making the morning just a little bit more stressful than it needed to be.