It felt like a somewhat disorganized holiday. At least it did for me. The boys arrived this morning, so we took it easy for most of the day. Plus, I think I've been spending too much time playing on the computer – I was going to take a break today, but Will wanted to install Linux on his netbook and download games. And that took a little assistance. But the day wasn't all wasted on the computer or chasing other shiny objects that my ADHD latches onto.
I did get the hall ceiling painted, and the light installed. The light is flush to the ceiling, and the raking light highlights the imperfections in my drywall work. The ceiling looked good before the light was installed, but I will need to try to smooth out the ceiling a little more this week, and repaint the ceiling. There is a huge difference in how smooth a surface looks with a raking light compared to the same surface with normal ambient light.  That is life. A bit of a bummer, but not a huge pain.
This afternoon we went out to the Ledyard Middle School and went sledding. The sledding hill was perfect, and the weather was reasonably warm. I didn't bring a good camera, so I only have pictures from the iPhone.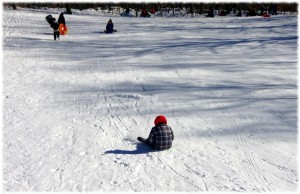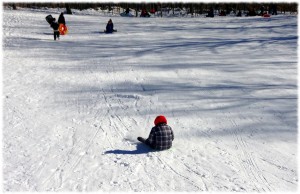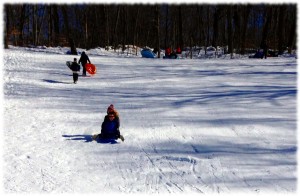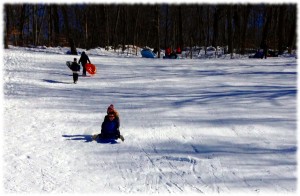 We also took a look at a mooring for the boat on the Niantic river. Last year we parked at the Submarine Base marina. The marina is reasonably priced, but a mooring is still cheaper. And the Niantic river looks much nicer than the Thames. Though it is covered in ice right now. It is just nicer looking ice. We will get the mooring for the season for about the same price as two months at the marina. The drawback of the mooring is that we will need to row out to our boat. I didn't plug the boat into shore power once last summer – so I don't think not having electricity will be much of a problem. Maybe I'll get a solar panel to charge the battery.