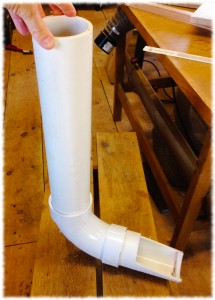 I'm mostly happy with the chicken coop I built last summer. The biggest problem is that I made the entire top a single hinged lid. It is heavy. With 6″ of snow on top of it is really really heavy.
The feeder for the chickens is inside the coop and requires that I lift the lid every week to refill the feed. One option would be to saw the roof in half, and have a left and right side that are easier to lift individually. Or I cold build a new feeder that can be refilled from the outside.
Susanna voted for the second one. She doesn't like the chickens, and would appreciate being able to care for them without having to hang out with them in the coop.
Today I went to the box store and for less than $20 I picked up 3″ piping and connectors to make a new feeder. It is a simple feeder, with a tube to hold the feed on the outside of the coop and a tray in the coop. Even though you can't easily tell in the pictures, the tray does have an end – the feeder doesn't just dump the feed into the coop.
I installed and filled the feeder today. Hopefully the birds won't stand on it and poop in their own food. But they probably will.
Overall, this was a quick easy project. It may have worked better with 4″ piping (it would have held a lot more food – almost twice as much).  Or maybe I could have used a longer section of piping to hold more food.