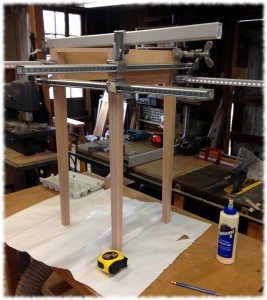 Finally the weather is warm enough for long enough to get some time in the shop. The boys didn't have school today, so I took a day off of work.
This afternoon I cut the remaining tenons  and glued up the second nightstand. The first nightstand is in the loft above the workshop waiting for a finish. I figure I'll apply the finish for both of them at the same time.
Next I will finish milling the pieces for the top and glue up the top. I also have to install a pair of cleats on the inside of the side aprons to attach the top and a pair to act as slides for the drawer. After the table is assembled I will need to construct and fit the drawer. Hopefully I can make progress this week and next weekend on the remaining steps.