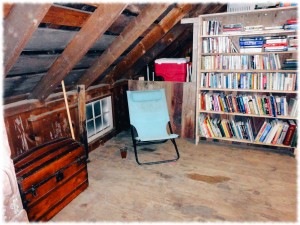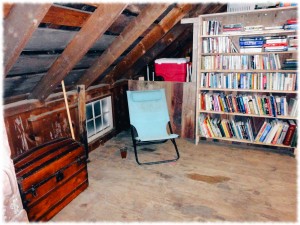 This year, Susanna and I are trying to focus on smaller projects. Projects that can be finished in a weekend. Over the past couple of years, we have completed many major projects that took several months to complete and we thought it would be nice to take a break from the big projects for a while.
This was one of the weekends where the boys aren't here, so we tackled a bigger weekend project. We have two big out buildings. One is my workshop, and I have been keeping it in pretty good shape (though the lumber stack below the workshop, and the storage area above it could use a good reorganization). The second building is our garage. The garage has a second floor that has been a focus on our improvements this year.
One side of the loft above the garage is the boys' play room/game room. I finished that for the boys for Christmas. It was a big change from the dirty wreck of a play room that they had before. However, to get to the play loft, one had to go through the other side of the loft – the storage area. It has been a disaster for the past couple of years. Okay, since I moved here.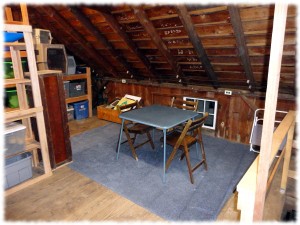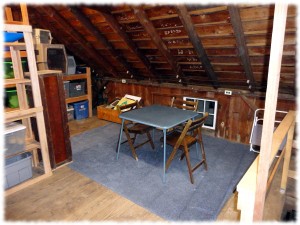 I did have one set of shelves built many years ago, but it wasn't enough storage (okay, if we got rid of stuff it would have been). But the space didn't feel special. This weekend I added lights and built a second set of storage shelves and a book shelf. Susanna organized and cleaned. The end result is another pretty cool space to hang out.
I know we probably won't spend much time there, but it is nice to have another cool nook to sit on the property.  It is nice to have Susanna to help encourage me to finish projects and not just start them.
The space isn't perfect. It gets hot in the summer and cold in the winter. I am hoping to add an exhaust fan later this year to keep the temperature more reasonable.  One of the window panes is still broken (Ben broke it earlier this year), and that will need to be another short weekend project to fix.  We may also add a window air-conditioner to the boys play room (on a timer of course) – hopefully they can keep some of the mess out of the house.