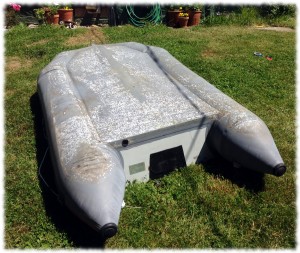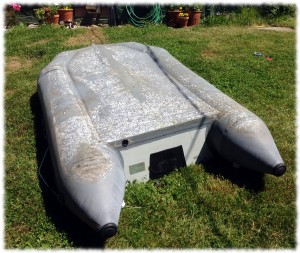 Yesterday, the boys and I picked up a used 10′ Achilles inflatable dinghy. It is an older model, and wasn't in the best shape. But it was only $80 so it was difficult to pass up. The boat building project is going slowly, so I decided it would be worth picking up a functioning dinghy until I finish with the one I'm building. Or maybe I just like collecting things – I'm taking a break from collecting lumber, so maybe I'm starting with boats. Okay, not really, but I'm guessing that someone in this house wonders about that…
The dinghy had been kept in the water without any anti-fouling paint, and had barnacles on the bottom. Two of the air tubes also have slow leaks in them. It should be a quick project to paint the bottom and fix the slow leaks. Since the boys and I picked up bottom paint at the boat store yesterday and didn't get the stuff to fix the leaks, today I'm painting the bottom.  The air leaks will have to wait until later this week.
First step was to clean the boat and remove the barnacles. Last night I scrubbed the entire boat, and carefully used a putty knife to remove the barnacles. This morning I let the remains of the barnacles soak in vinegar and then rinsed and let the boat dry. After the boat was dry I sanded the bottom as smooth as I could without damaging the fabric. I again rinsed the boat off and then cleaned the bottom with a solvent (I used MEK because that is what I had – and it dries very quickly).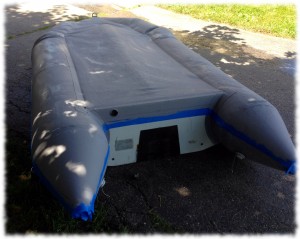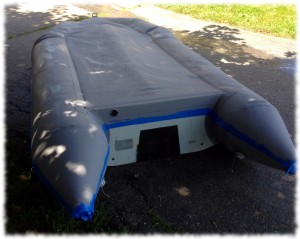 Susanna and I moved the boat into the shade to make it more pleasant to paint, and to make sure that the bottom paint didn't dry too quickly. I finished the first coat, and will let it sit for 4 hours and then apply a second coat this afternoon. I may apply a third coat, because I think there will be enough for a third coat in the can, and I may as well use it up (though maybe I can store it in the basement and get try to get another coat out of the quart next season).
Now back to the workshop.