The 4th of July (or "Colonial Insubordination Day" as my friends in the Royal Navy like to call it) calls for hot weather, barbecue, beer and fireworks. However, this year, thanks to Hurricane Arthur, we get cold and rain, though as I write this, it sounds like someone is trying fireworks in the distance. Not sure what there is to see in the rain tonight.  And don't worry; even cold, rainy nights can support beer.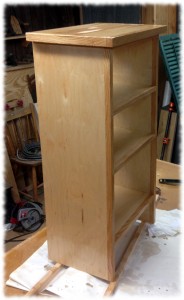 Today I got an escape from my chores to spend the day in the workshop. I'm building outdoor toy boxes for Susanna's preschool. Three boxes from 10 sheets of plywood, so I have lots of left over plywood scraps and decided to build a small (16″ wide x 12″ deep) storage shelf for the office. It is also a good chance to test out the finish that I plan for the toy boxes. The shelf was a quick, taking less than a day in the middle of another (larger) project and was a good reminder to prep surfaces as much as possible prior to assembly.  I finished the shelves with a coat of shellac followed by a coat of spar varnish. I'll probably be lazy and only apply one coat of varnish to the shelves (unless they look like crap tomorrow after the varnish dries).
I'll post pictures of the boxes when I get them done. I have one box (sides, top and bottom) glued up. Tomorrow I'll sand the interior and put in the shelf. I need to mill more red oak for the face frame and door edging.  And when I'm done with the boxes, I'll need to get back to finishing the dinghy build. At least the barn swallows are enjoying the half-finished dinghy in the garage as a place to hang out.