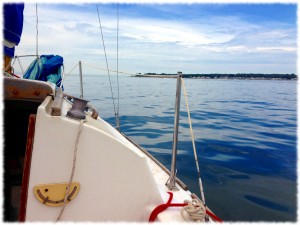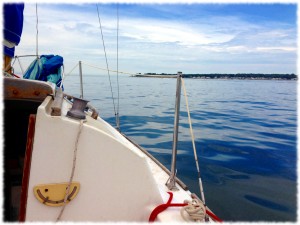 It wasn't sunny or windy. But it wasn't rainy or cold. So it was a perfect day to take the boat down the Niantic River and out into the Long Island Sound, raise the sails, decide there wasn't any wind, lower the sails, catch a right and motor over towards Rocky Neck State Park. Which is what we did.
We anchored for a little while not too far from Griswold Island next to Long Ledge. Susanna decided to test out the cold waters of Long Island Sound for a very short swim. I didn't bring my bathing suit, but I still jumped in. And it was cold.
The wind picked up after lunch and I again raised the sails.  However it was a light wind and with the current in LIS heading west we were not making any progress towards home. I started the outboard and we motored home.  Overall we covered 15 miles in about 4 hours and 30 minutes.