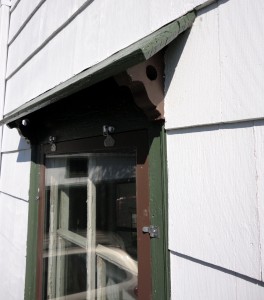 It seems like all I write about is fixing the windows in this house.  Maybe one of these days I'll have something more exciting to write.  I'm pretty sure Susanna is getting tired of having to check out each window after I paint the trim and put in a storm window.  And to top it off, she gets to read more about it in this blog…
I think we finally committed to a trim color scheme.  It is Rookwood Dark Green (Sherwin-Williams) trim with Rookwood Dark Brown accent colors.   We are still discussing what color to paint the house (I'm thinking that the house may get painted next summer – so I'll live with unmatched trim for a while – I think the white is a bit to bright compared to the dark trim).  I also found out that Will has a difficult time telling the difference between the green and brown trim colors.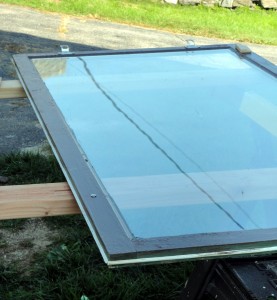 I dug out all the existing storm windows from the basement (and barn) yesterday.  I started repairing the one that is in poor shape and painting the rest.
I installed the new storm window hanging hardware from Kilian Hardware.  It is much nicer (and a lot more expensive at $20/set).  I had been trying to find a better way to latch the storm windows in – and these seem perfect.
I'm guessing this will be the last long warm weekend of the year to work on the house – which is good – I'm almost out of green trim paint and am holding out until the spring to get another gallon.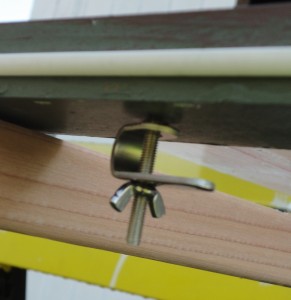 In addition to a busy day working on the house, we had a crazy kids day here. A little before lunch, the boy next door, Justin, came over to play.  Then after lunch, Ben invited his best friend, Anthony, over.  A little later, Will's best friend, Shane, came over.  Everyone stayed through dinner (homemade pizza) and a movie ("Matilda").  Justin and Anthony went home, and Shane stayed over for a sleepover (Will's first and Shane's first at another house).
So, here we are at 9pm, with Will and Ben asleep, and Shane down here talking to Susanna.  It is never easy to sleep in a new place.