After work on Friday, Susanna, the dogs, and I headed down to the sailboat for a short overnight trip.  We again loaded up gear and headed south down the Niantic River. We passed under the Amtrak bridge and raised the mainsail. We motor-sailed across the Niantic Bay and rounded Black Point and headed into the anchorage around Giants Neck Beach. We dropped anchor around dinner time in about 3-feet of water.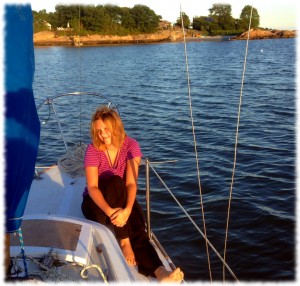 I rowed the dogs over to one of the many rock islands that inhabit the region and let them wander a bit and go to the bathroom. Susanna pulled out sushi and some red wine for dinner. We sat at anchor and watched the sun set over East Lyme. The swell picked up around 2 am, waking both of us and making it difficult to get back to sleep. Anyway, I think the v-berth bounces around a bit more than the rest of the boat. However a while later the sea calmed down and we both drifted back to sleep. I was up with the sun, again taking the dogs ashore and then making coffee for the drive back to Niantic. We were back on our mooring by 9 am and home 30 minutes later.
The goal for the night was to get some time away from the house together as well as see if we enjoyed camping on the sailboat. I think the trip was a success in both areas.  Hopefully next time we won't have commitments early the next day and I will be able to sleep in a bit.