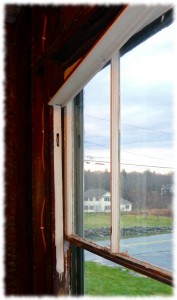 We had to remove the trim around all the doors and windows so we could tear down all the plaster and lath in the mud room/laundry room. We are replacing the plaster with drywall. Apparently I wasn't careful enough removing the trim around the window in the laundry room, and the window frame came apart when I pulled off the trim.
These are original double hung windows. The frame had come apart where the wood was thin – the dado where the parting bead was installed. We decided to glue the frame back together instead of trying to duplicate the piece in the workshop. I also had to repair the upper jamb which also broke in half.
To clamp the frame up, I needed to take the storm window out. That would mean the house needs to be open to the outside for a couple of hours, or I would have to install a plastic sheet on the exterior to cover the window. However, today the temperatures soared into the upper 50s and the sun was out. No problem leaving the storm window out for a couple of hours.
First I removed the upper sash. It was really stuck, and I cracked one pane of glass getting it out. Then I removed the upper jamb and pulled the nails out. I used some thick epoxy to do the repair. I replaced the upper jamb with a piece of 2×8 framing lumber that I cut down to size.  Once the epoxy had cured enough to no longer need clamps, I reinstalled the storm window. Now to scrape the paint off and wait for Susanna to finish the window sashes.