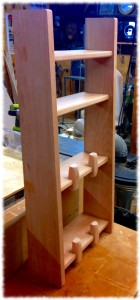 After a couple of evenings in the shop, I have the charging station nearly complete. The glue-up is finished and the piece is mostly sanded. I do have to decide if I am going to add a piece on the top to hide where the power strip will go.
I also have to route two groves in the back to allow wires to run up and down the box when it is hung on the wall. Which leads me to the final decision I'll have to make. How to hang this on the wall… But I don't have to make that decision today.
I added short wood pegs on the front edge of the bottom shelves to keep tablets from slipping out. The third shelf will hold phones, and the top is for the power strip.
I'll finish the piece with a coat of shellac topped with a couple of coats of wiping varnish.  I should be able to hang it early next week.
I'm not 100% sure on how it looks, but I'll have to wait to see how it looks hanging on the wall. I tapered the sides, but think maybe a larger taper would look better. And the shelf spacing isn't perfect. I think the top shelf could be maybe an inch higher. Though maybe I could just clip the top inch off of the sides to make it look right. Thoughts?