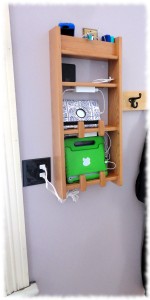 I put the last coat of wiping varnish on the charging station last night. This morning I hung it in mud/laundry room.
I think I should have made it a little bigger, but it works. I think I'll also add a power strip in the top section and try to hide the wires a little better. But a new power strip will have to wait until another day.  I'll also need to order a couple of shorter (maybe 12″ long) lightning charging cables to keep it a little less cluttered.
This week is a good woodworking week. I finished a quick home project and have a toy box sitting in the workshop waiting for nice weather for delivery to Susanna's school.  Two projects finished and it isn't even February. Not a bad start to the year!