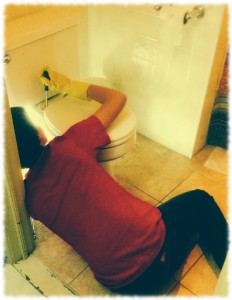 Today is a little wetter and cooler than yesterday – another good day for indoor chores.
The boys and I went to the store this morning to get supplies for house projects. I was planning on focusing on adding outlets to the nursery. The boys decided to work on project to earn a little extra electronic play time today.
Will choose to replace the toilet seat. The old seat had broken, so he picked out a new seat and replaced the old one. Ben decided to add a wireless doorbell to the house. The previous doorbell hasn't worked in years, so a new wireless bell seemed like a quick simple project to get off the to do list.  Both boys are getting old enough to help around the house without much supervision.
I was able to make some progress on getting outlets added to the nursery. I'll have some more work to do in the evenings this week, but I'm feeling good about being ready to drywall next weekend.