I've been pretty good at getting back into the workshop. I have the AC installed – and even though it doesn't completely keep up on a hot and humid day like today, it helps. I'm currently building a case for my new workshop computer. The case will allow me to add filters to keep the dust out of the machine.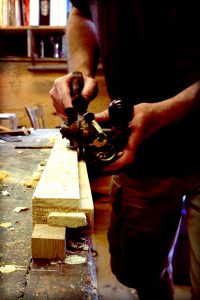 Today I'm cutting rabbets on the rails of the case to allow me to install the bottom and sides of the case. Normally I would set up the router table and use the router, but I need to go get longer bolts to attach the fence to the new table and I'm lazy. Plus, Izzy has been hanging out in the shop at times (in her pack and play), so I need to find ways to do things without power tools.
Which brings me to the Stanley No. 45 Plane. The plane came in a collection of antiques I got from my dad. It is in pretty good shape, though the cutters need sharpening. Last night I started sharpening the cutters.  The cutters are almost at a 30-degree bevel, but not quite and it took me a while to grind the proper bevel. So, after sweating at it for a while, I decided to only grind the 1/2 dado cutter. I'll work on the rest as I need them (and in hindsight, I should have done one of the wider ones).
How did it work? At first use, it works well. I had to make two passes to get the width of the rabbet I wanted (hence, the wish I had sharpened a wider cutter) which made the finished cut a little rougher than I had hoped. Of course I didn't do a good job cleaning up the rabbet either, but no worries – the rabbet will be hidden.
Now back to work – time to clean up the rails and glue up the frame. And maybe later to eBay to browse different cutters for the plane.