Susanna is out running errands. Tucker and Izzy are napping. Or at least Tucker is. Izzy is working on a nap – or just reading to herself in her crib (she really wanted her "Star Wars" books from Will and Ben today. I finished taking down the plaster and lath in our bedroom this morning and had good left-over pizza lunch. So, now I get to take some time and look ahead to 2018. We are starting the year with a big house project. We are gutting our bedroom and adding a master bath. We will finally have more than one bathroom in a house of 5 – this is a much-needed upgrade.
Over the Christmas break week, Susanna, Ben and I took turns tearing down plaster and lath. I finished the rough demolition today and we are waiting for the dumpster to get changed out tomorrow to throw the last of the waste away (we had to get a small dumpster to fit in the yard below the bedroom window). What an improvement having a dumpster in a place where we could just toss the debris out the window into the dumpster. Or next to it making a mess as Ben did when he overestimated his strength tossing a bag of plaster out the window. What would have been a backbreaking chore of dragging bags of plaster down the stairs turned into a fun game of tossing bags out the window.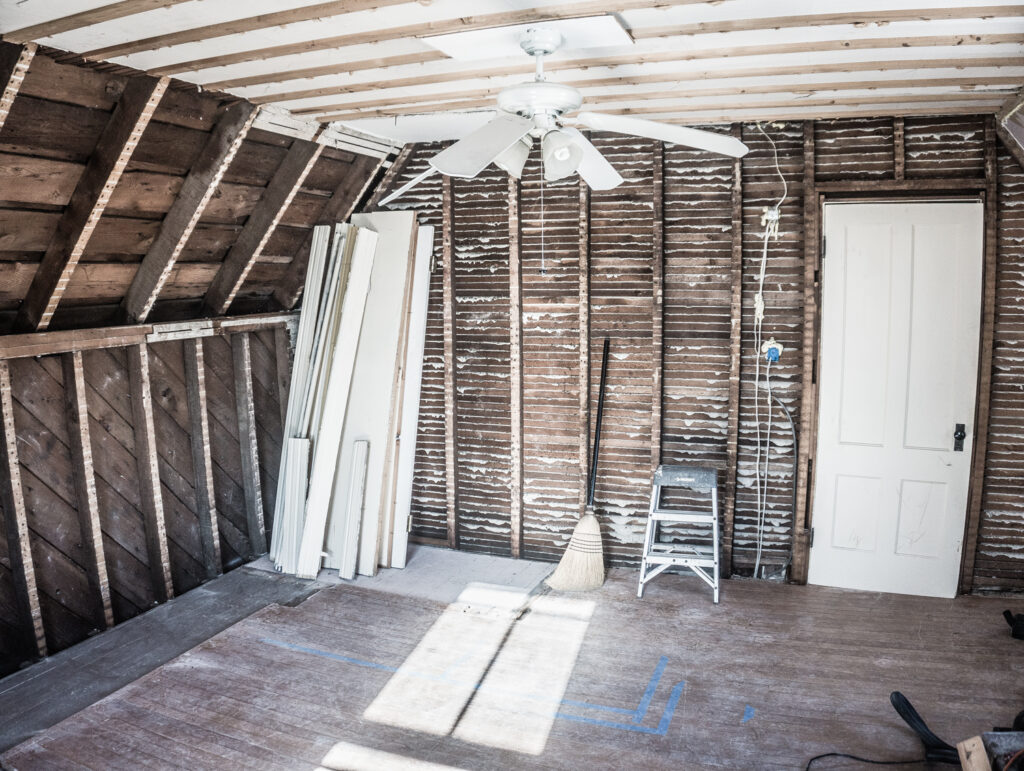 Over the break we had a new hot-water heater installed. The hot water coils in the boiler wouldn't be able to keep up with the demand of two bathrooms (it could barely keep up with the one bathroom). The heater is a hybrid heat-pump electric heater which will also help keep the basement dehumidified in the summer.
We are starting the year off right with a major house improvement, which is my top goal for year: Finish the bathroom!
What else do I want to try to do this upcoming year?
I'd like to get back into writing in the blog. It is always fun to look back on what I have accomplished in a year, and Facebook and Instagram aren't really designed for that.
I want to take Will's blog and turn it into a book. He hasn't been using it much, and he is now in High School – so I'm sure he doesn't want to keep his blog from when he was in elementary and middle school around online forever. If I get it printed, it will then be a journal for him to keep forever. I'll do the same for Ben next year.
I want to take a trip somewhere with Will. I took Ben to a wood-turning class in Atlanta and we had a blast.
I want to get Will's boat in the water (and not sink).
I want to complete a woodworking class (either online or in person).
I want to build a step-stool for Izzy
I want to finish the patio/pool area (electrical power, shade, etc).
I want to do an organized bike ride with the boys (and maybe my Dad) – I'll have to get Ben onto a road bike for this.
I want to help Susanna throw a joint birthday party for the both of us (she turns 30, I turn 45).
I would like to finally get the workshop insulated enough that I can use it on cold days – or make a winter workshop in the basement for working with hand tools.
I would like to upgrade my dust collection in the shop.
Of course my list is always subject to change. Except finish the bathroom/bedroom. That has to happen.