Bombogenesis, a popular term used by meteorologists, occurs when a midlatitude cyclone rapidly intensifies, dropping at least 24 millibars over 24 hours. A millibar measures atmospheric pressure. This can happen when a cold air mass collides with a warm air mass, such as air over warm ocean waters. The formation of this rapidly strengthening weather system is a process called bombogenesis, which creates what is known as a bomb cyclone. – NOAA website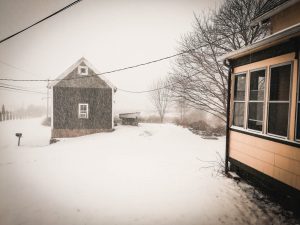 The first big storm of the winter is expected to bring nearly a foot of snow and strong winds to the area today. Bitter cold will follow the snow.  My work is closed today. The boys are at their mom's house and Susanna is sick in bed. So I get a quiet day morning with Izzy.
Last night I finished my storm preps. I replaced the belt on the snowblower and ran it for 10 minutes. I pulled out the generator and got it running and then spent an hour looking for the power cable (that was hanging in plain sight in the garage). I filled up the cars and filled up extra gas for the generator. Susanna filled a few extra pitches of water.
Now to just wait it out. So far it hasn't been too bad – it is windy, but not terrible (yet). The snow is light and fluffy and not yet too deep. Hopefully we will keep power. The work on cutting back trees by the power company over the past few years has helped; we have been pretty luck with power through the big storms over the past few years. At least it is cold enough that the snow should be light and fluffy and not so bad to shovel.