After a rough start to the weekend (the boys were tire yesterday after school), we had a really nice Saturday.  The morning started with a trip to a farm (see the previous post) for the boys and me, while Susanna stayed home and worked on homework.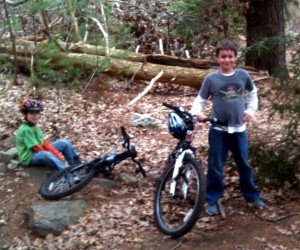 After the farm, Ben wen to his piano lesson while I took Will shopping for a birthday present for the party he is going to tomorrow.
We all met at home for lunch.  After lunch, I took the boys on a bike ride on the trails behind the house.  It was quite a ride – we wound up coming out on Middle Road and riding down the hill to our street.  We spend over an hour out on the trail – of course we had to walk bikes up a lot of the hills.  We had to cross a stream, navigate lots of rocks and downed trees.
After the bike ride, the boy next door, Justin, came over to spend the afternoon playing.   Three boys playing, and no fights – that is always a good day.  They even got me to play "ambush" for a while – I have to remember to pay attention – Justin was able to ambush me because I was just daydreaming watching the dogs playing in the yard in front of me.