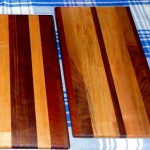 Last month I completed a set of pretty simple cutting boards with Will, Ben and Ben's friend, Anthony. Making long grain cutting boards is simple, and was easy for the boys to complete.
I did all the milling before the boys arrived. I found a bunch of scrap lumber in the workshop and cut them to about 15″ in length. I then milled them all to the same thickness. The exact thickness doesn't matter – I just made them all match the thinnest piece of scrap.
I marked then cut them into varying strips of 1/2″, 1″, and 2″ width. I marked arrows on each piece so the grain all lined up (so I could use the jointer/planet in the final boards to clean them up).
I then had the boys mix and match the strips into boards that were no wider than 7″ (so they would fit on the jointer). In hindsight I could have let them make the boards a little wider. The boys then glued up the strips into boards and let them sit overnight.
After the boards were dry, the boys helped scrape away the glue squeeze-out and I ran them over the jointer and through the planer to even them out. The boys can help at the planer, but have to stay away from the jointer.
I then cut the boards to size on the table saw, and the boys used the router table (with a lot of supervision) to round over the edges. They then hand sanded the boards and applied a coat of mineral oil/beeswax coating.
It was a quick project that required little prep and no cost by me (the scraps would have gone into the fire put if not used). The steps were short and simple enough for the boys to not get bored. And the boys had a chance to appreciate the beauty of different species of wood.