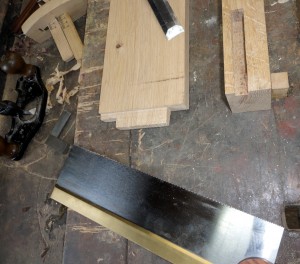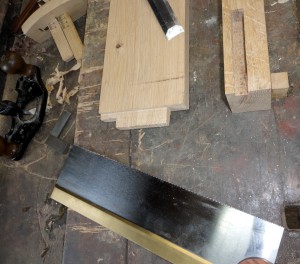 I'm at a good stopping point in the workshop renovation, so I figured I'd start using the workshop.  Tie to jump into the kitchen island project.
This morning I milled the legs from white oak.  I spent some time thinking about how I would make the mortises and tenons for the project (8 total each to attach the apron to the legs).  The last project I had routed the mortises on the router table, and made the tenons using the table saw.   I thought about it, but didn't really want to go that route.
I didn't really want to do all the mortises by hand either.  So I'm using the drill press to clear out most of the wood from the mortise, and then cleaning it up by hand.  I made a mistake with the first one.  I should make the tenons first – then the mortise.  I made the mortise, and had to make the tenon to match.  I cut the tenon by hand.  It didn't fit right off the saw – but it didn't take too much to make it fit – so I'm pleased with how it turned out.   I also decided to make them haunched tenons.  I also plan on pegging the tenons – hopefully they are long enough to make it look decent.  I guess if I need longer tenons, it won't be terrible to do by hand – I've only cut one mortise and tenon that I'll need to adjust.
One of the advantages of doing things by hand – I'll work on one joint at a time.  No need to set up the power equipment and batch the joints.  I can also listen to music while I do the handwork.  It is much more pleasant than using the big power tools.  Don't worry, I'll still use my power tools.  I have no desire to rip a 5 foot long piece of white oak by hand.  Nor do I want to take the 5/4 white oak and mill it down to 3/4″ without using the power planer.