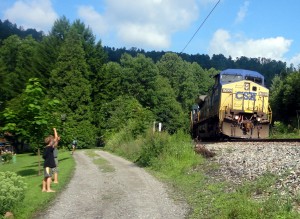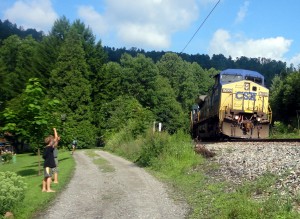 We had a wonderful week in western PA.  I'm writing this from home – I forgot my adapter to download pictures from the camera – as well as a poor (sporadic) Internet connection prevented more posts from the trip.
The last two evenings after dark we played many rounds of "flashlight tag" with all the kids (both the young ones and the "grown up" ones).
The second day was just spent hanging around the house, playing in the water.  I took the boys and we put life-jackets on and floated down the river from the back of our house to the takeout above Ramcat Rapids.  It would have been fun to run the rapids, I'm just not sure we could have made it home from below the rapids easily.   We even saw two Northern Water Snakes while we were wading in the river.
I also headed into town to find some beer.  That was a challenge, the only package store in Confluence was several miles out of town, down a side road, attached to someone's house.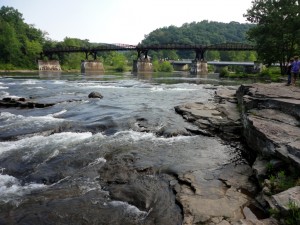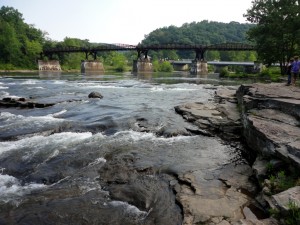 The third day was our big outing day.  We headed to Ohiopyle before lunch.  We spent an hour playing in the rapids above the falls.
Even Felix (the Rwandan graduate student that my dad and Barbara are sponsoring) swam the rapids.  He can't swim, so he stayed in the shallows (there aren't any lakes or big rivers near where he grew up in Rwanda).
We ate lunch at the Ohiopyle Bakery.  I would recommend the bakery for lunch to anyone visiting the town.  The prices were good, and the food was wonderful.  It was a short walk from where we had parked and played in the water.
After lunch most of the group wanted to go for a bike ride (Ben included).  Will, Felix and I stayed to play in the water.  We visited the natural waterslide  (and all went down the slide once – Will went more than once).  It was a bit rough, bouncing off the rocks on the way down, but fun.  I'm sure it would have been a lot faster if the water weren't so low.   We even saw a huge snapping turtle in one of the natural pools in the stream.
After the slide, we went back to the rapids above the falls and spent the rest of the afternoon playing there until everyone else returned from the bike ride (Ben rode 6 miles).
The final night we walked over to the edge of the property to watch the bats fly out of the man-made bat houses on the property.  It was amazing to watch – I have never seen so many bats at once.  We stood about 20 feet from the bat house and watched them fly into the evening over our heads.
Yesterday we headed into Ohiopyle for breakfast and then drove home.