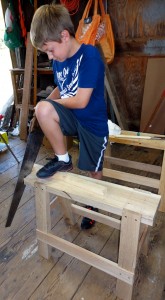 Over the past couple of years I have learned that I am not good at finishing projects. Looking back at my life, it is something that I have always suspected about myself. It isn't something that is always easy to admit to oneself though.  I love the thrill of starting something new, but usually anything worth doing takes long enough to finish that it is no longer new and exciting.  Once a project is no longer new or exciting it is easy to put it aside to start a new and exciting project.
I have done that when renovating my house.  Ben's room took years to finish, and that with help and encouragement from both my dad and Susanna.
I have done that in the workshop.  This past summer I added the last remnants of several unfinished projects to the fire pit.  They included a carcase from a storage shelf I started years ago before moving to Preston, pieces to a bed I was going to build for Will or Ben, and a section of maple butcher block I had glued up for a carving board.
I'm trying to limit the number of projects I have going on at one time.  This summer saw a few too many.  Two projects in the workshop (an island for the kitchen, and a saw bench for Will), a push to get the sailboat in the water before the water freezes, and painting the house trim.  Thankfully, Susanna has taken over the painting.  Unfortunately, I am still waiting for trailer parts to arrive in the mail – which makes it tempting to start a new project. But, I'm trying to focus on finishing projects.
The pieces from Will's sawbench had been sitting around the workshop for a couple of months.  The boys were gone last week, and Susanna worked every night, so I had lots of evenings free.  I cut the last joinery out on the sawbench and prepared all the pieces for assembly.  I could have finished it last week, but since it was a project I started with Will, it seemed better to wait until he returned to finish it.
This morning we assembled the bench, and now I have one less uncompleted project hanging over my head.  Now to move on to finishing the other projects I have going on before I start any more.