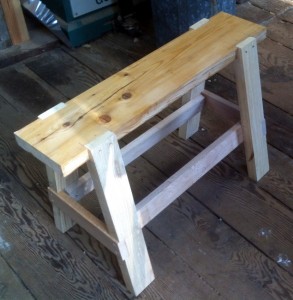 Some of the most useful tools in my workshop are the tools that I have built. The "saw bench" is one of the tools that I use almost every time that I am in the shop. I have three currently in the workshop. One is sized for me to use when using a hand saw to cut lumber. Two are a bit shorter so the boys can use them. They are simple to build and used lumber I had sitting around the shop.
The primary purpose of the saw bench is to hold a piece of wood at the proper height for cutting. They are also good for using as a step stool to reach the top of the shelves in the workshop as well as a seat to sit on when taking a break.
They aren't too difficult to make. A quick search on the internet will turn up a bunch of easy plans. I would suggest that a matched pair of these would be useful in any shop. The first one I made was built as a project in the first semester of the Hand Tool School. The last two were inspired from Popular Woodworking's traditional saw bench article. I didn't add the ripping notch at the end of the boys' benches – I suspect that they will use them more like a traditional workbench for a while.