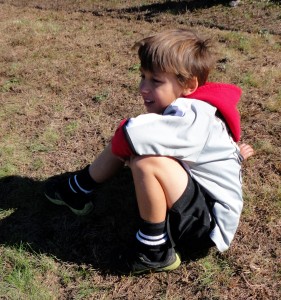 We had a good, cold, soccer morning on Saturday. Both boys had games, but this week Ben's game was early, so we had to be at the soccer field by 9am. Which meant no lounging around in the morning as we had done the previous two Saturdays when Will's game was the first one at 10:30.
It was also cold. The house thermometer said 24 degrees (-4°C) when I woke up. We had a good hard frost on the ground – no more peppers from the garden (which another post topic  – however not a post that I will plan on writing unless really bored).
Ben's game was great. He played goalie the first quarter, letting in only only one goal. By the second half his team was tied 1-1 and he had moved to playing forward where he scored the winning goal (they won 2-1).   Will played a good game as well.  He rotated between positions, and was able to get two shots on goal while playing forward.