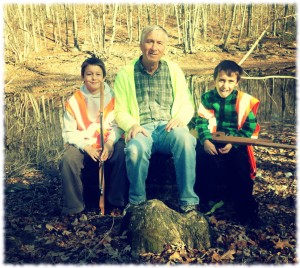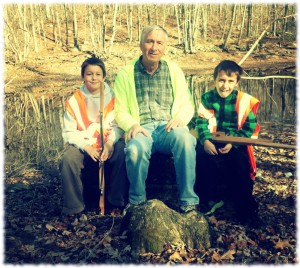 The weather this week has been nearly perfect. It has been (maybe) a little cool in the mornings, but the days have been wonderful. We took the opportunity to enjoy the nice weather and did a hike behind the house on Thanksgiving morning. My dad was visiting for the week, so we got to enjoy the woods with him.
We took a little detour from the normal loop that we hike, and took a closer look at some of the abandoned hospital buildings that are adjacent to the trails we hike.
We enjoyed a turkey dinner (thanks to the Sawyer Farm for the turkey – it was wonderful), and Susanna even ate a few bites of the Thanksgiving turkey. Will was quick to point out that the turkey is the only thing on our table that was on the tables at the Pilgrims' first Thanksgiving dinner in 1621, but we enjoyed our meal nonetheless.