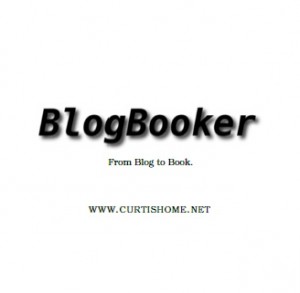 It is that time of year again. Time to look back on the year. Time to get the blog printed into a book. Not only do I need to get this blog printed, I promised the boys that I will print their blogs as well.
Last year I used blog2print.com. The site make it easy to print a hardback book from a blog, and the quality of the printed book is good.  One of the things I didn't like with the service was there was no control over the size of the pictures in the book. The quality of the images was decent, but they were all a little smaller than I would have liked.  The book also doesn't include comments. The comments aren't really an issue for my blog, but for Will's and Ben's blogs, the comments would be nice.
I'm trying a new path for the boys. I haven't decided what do do with this blog.  I am using BlogBooker.com.  The service is free (though to get it to use high-resolution photos you must make a donation (about $14). The service takes the blog and converts it to a print quality PDF.  I can then upload the PDF to Lulu.com.
With BlogBooker.com and Lulu.com, I can only (easily) get the book in a 6×9 or A4 (letter) softcover book.  I probably could find a way to get it to one of the hardbound book sizes for Lulu.com, but it would require a couple of extra steps. Another advantage is that I could open up the Lulu.com books if grandparents wanted to get a copy of the boys' blogs.   BlogBooker.com also allows comments to be automatically included.
If anyone has a better way to take a blog and publish it, please let me know.