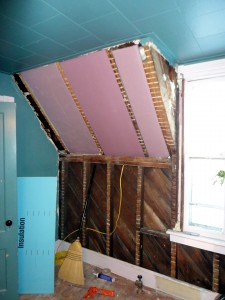 The boys are here all weekend, so I didn't entirely focus on working on the room.  Susanna and I have agreed to each spend two hours on the room every day before we allow ourselves to sit down and watch TV. That should be incentive to make progress.
Yesterday we got most of the lath removed from the section of wall we are replacing. I also removed the trim from one side of the window and sealed and insulated the counter-weight cavity.
Today Susanna helped Will get settled into his new (temporary) bedroom. I made the trip to Home Depot to get insulation and drywall.  I ran wires up to the attic to add outlets to the room. The trick will be to get a second 20 amp circuit to the attic so not all the bedrooms will share the same circuit.  I installed the rigid insulation into the sloped part of the wall. Tomorrow the plan is to install the outlet boxes and add start installing drywall.