After a cold start to the long weekend, I was able to get back into the shop on Monday. The rain came on Monday, and with the rain came temperatures in the 40s. That isn't too cold to heat up the shop to a  comfortable working temperature.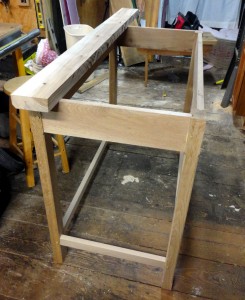 I did the assembly and glue-up of the kitchen island base on Monday, and spent time Tuesday night cleaning up the base. Of course, I can see all the flaws in the piece. I'll have to be more careful with the joinery on the next project.  I'll have to live with the less than perfect joints.
I had also planned on doing a bottom shelf, but forgot to cut the rabbets for the shelf on the bottom stretchers. I'm sure I could add a bottom shelf later if it is desired. I'll have to see how it fits in the kitchen (and defer to what Susanna wants for the project).
The next steps are to take the base into the basement and spray finish it. I also have to finish milling the hickory for the top and glue up the top. I haven't decided if I'm going to do a breadboard end for the top or just leave it plain.