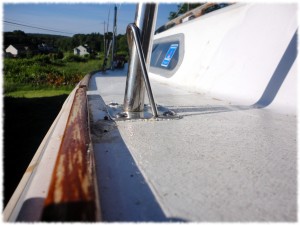 The forecast called for rain all day yesterday. But, if the weather people could predict the future, they would probably work in the stock market. And be rich.
The rain had stopped by the morning. The stream in the back of the yard was pushing over its banks and running over the stone bridge in the back yard. By the afternoon the yard had dried enough to do some chores.
It takes two people to attach the deck hardware on the sailboat. One topside keeping the bolts from turning, and one below with a wrench. Normally it is a chore to find an assistant.  Apparently tightening bolts isn't the most exciting family activity. But yesterday I had a captive audience.  Will had gotten in trouble for hitting his brother yesterday – he was either stuck in his room or helping with chores. And apparently the most exciting chore available was to work on the boat. I'm not sure why he didn't find cleaning the refrigerator exciting.
It took us no time to install the two stanchions and the one missing eye bolt. Now the boat is ready for the summer. Or, as ready as I plan on getting her this spring. Of course, she needs the bottom painted, new bulkheads made, a better paint job… the projects are endless. Just not for this summer.
The hope is to launch her next Friday or Saturday and leave her at the marina on the navy base until August.