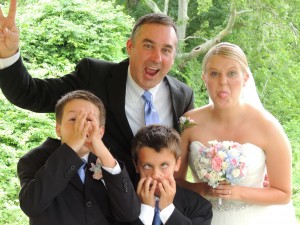 July 1st was a perfect day for our wedding. It rained all day, and poured during the ceremony. But it didn't rain at the reception. It was hot and humid. And it was perfect. We both had fun. The boys had fun (maybe a little too much fun). I think all the guests had fun.
We had a small group of friends and family join us for our wedding and reception. We enjoyed a mix of wedding traditions. But of course both the Swedish and US traditions involve having an open bar. Though we apparently the Swedish weddings normally go later than we decided to party.
After a busy week getting ready, and  long day enjoying the party, we are all trying to recover. We are all still a little rough around the edges – Six Flags yesterday with the boys didn't help, but was worth it. I think today should be a good quiet day to recover. I'll take some time later to post more pictures (and tell more stories).