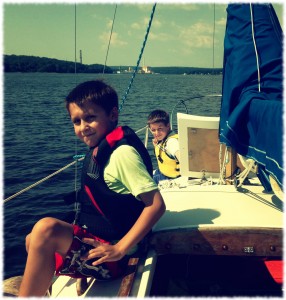 It was hot today. Not just a little hot. Hot enough to cook the bottoms of feet on the driveway and hot enough to appreciate living near the ocean. Though not quite St. Louis hot. But, I have been living away from the middle of the country for long enough to no longer tolerate St. Louis heat. But at least it wasn't as humid as last week. Last week was miserable.  If I wanted to live in Florida, I would live in Florida.
Anyway, today was hot enough that the boys didn't want to play outside. So, after work, I took the boys down to the marina and we took a short trip north (up the river) to find a place to anchor and go swimming.  There was scarcely a hint of a breeze today, so we motored the entire time.
The water is perfect this time of year. Cool enough to be pleasant, but not cold. We anchored up near Gales Ferry (just past the Yale boathouse). There was a little bit of a current where we anchored, so I tossed a rope in the water for everyone to hold onto while swimming. We were tied up and home in time for dinner.
The trip up the river was pleasant. I haven't traveled far upriver before. The channel is wide, and we didn't find the bottom. Even with only my iPhone to navigate the way upriver. Once out of sight of the submarine base, the river feels much more secluded, with only the sporadic powerboat passing by to disturb the peace.