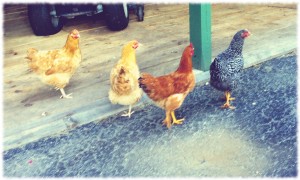 Today wasn't as productive of a day as I had hoped. But it seemed busy enough. I did get some work done on the chicken coop, including adding a new watering system. Susanna and I also cleaned the house and did other house chores. Not much fun, but needed projects.  In the afternoon we went out to look at cars and visit a vineyard for a wine tasting.
Too bad that most car dealers are closed on Sundays. At least we could look in the windows, even if we couldn't open the doors.  We then headed to Priam Vineyards in Colchester, skipped the wine tasting and just got a bottle of wine, crackers and cheese. It was too nice of a day to sit inside and do a tasting. We decided to enjoy our food and drink on the patio.
This evening I let the chickens out to range. I think for now we will have to keep the dogs and chickens apart.  However, the chickens do seem to enjoy exploring the yard, and Tucker does enjoy spending the time after the chickens are back in their coop searching out where they have wandered.  I'll bring Tucker back in sometime before bedtime.