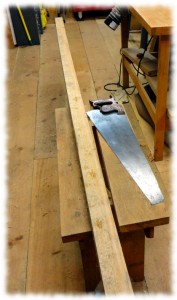 Tonight I was able to start milling the lumber for the nightstands. I marked out the rough lumber for the legs and cut them to rough length (about an inch longer than the finished size of the legs). I do the rough cuts with a hand saw on my saw bench. I think it is much easier (and more pleasant) to use the hand saw to cut them to length.
After cutting the boards to length I began the milling process on the legs. The first step to milling the boards is to take a face of the board and make it flat. The boards don't dry perfectly flat, but these boards are pretty close.
After getting the first face flat, I will turn the boards on the side and get one edge square (90-degrees) to the flat face. Flattening a face and squaring an edge is done on the jointer. If the boards were wider than the jointer, I would have to flatten a face using a hand plane – but I'm not sure I'm ready for that (and luckily I didn't pull out any lumber for this project that is wider than the jointer (8-inches).
The second step is to mill the boards to thickness. However, the rough boards are almost 3-inches square, and the final dimensions will be under 2-inches thick. I am concerned that the boards may cup slightly when I remove that much lumber. So, tonight I just milled the boards to 2-inches square. I will let the boards sit for a couple of days and then re-flatten and square them before planning them to the final thickness. I use the planer to get the boards to the desired thickness. If these boards were flat (instead of square for the legs), I would then rip them to width on the table saw. I just get these square using the planer.
Tomorrow I will start milling the boards for the top and aprons. It is nice to work with clear, dry lumber. The last couple of outside projects used wet oak and maple which is terrible to mill.