I took a day of vacation on Friday to sail to Block Island, RI and meet some friends from work. They had sailed there on Thursday from Newport on a 44′ boat owned by Dick Lemish. They had a 24 mile journey and made it in 4 hours.  I have a 22′ sailboat that can only do about half the speed and we had a 34 mile journey.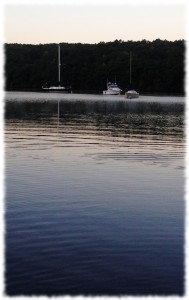 I decided not to sail alone, and one of the guys from my office, Adrian, took the day off to sail with me. I picked him up at 5:45 in the morning, and we were underway by 6:30.  We had an early start to catch the tide right at Race Rock (by afternoon there would have been a 4-knot current against us at the race).
We headed out on a calm morning, motoring all the way to Race Rock.  We put up sails as we passed Race Rock and sailed most of the remaining 18-miles to Block Island. The breeze picked up in the afternoon and soon we were flying towards the island at over 5-knots with just the main sail up and 6-foot swells from behind.
After a 9 hour, 34 mile sail, we arrived in time for afternoon drinks and a dinner of burgers and chips (and more beer). I was too tired to head into town with the rest, and fell asleep pretty early.  I slept on my boat, and Adrian camped out in the cockpit of the larger boat. I finally made my 2014 goal of an overnight on the sailboat.
The next morning we departed for home about 8 in the morning. We had a good westerly breeze that pushed us most of the way across Block Island Sound. We turned at Misquamicut State Beach, RI and headed west (under sails and motor). We passed east of Fishers Island, NY and bounced through the choppy waters off of Napatree Point into Fishers Island Sound. The breeze picked up so we killed the outboard and sailed back and forth across Fishers Island sound towards Long Island Sound and Niantic. We motored a bit when the wind died down, but for the most part we sailed until past the Thames River.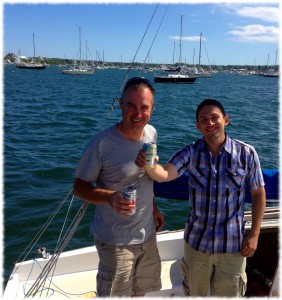 At about 4:30 we decided to motor the remainder of the trip (past Milestone nuclear power station and up the Niantic River). We pulled into the mooring at about 6pm after a 10 hour and 37-mile journey home.