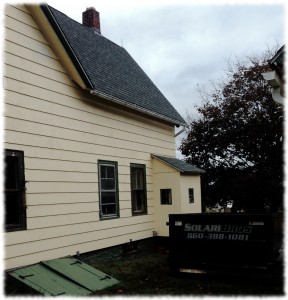 Here we go again. More home improvements. Hopefully this one will go quickly – we are paying contractors to do most of the work. But it still requires moving furniture, managing contractors, and some work on our side.
Our fall plans are to have the chimney removed (it is no longer used, and is in the middle of Will's bedroom). We will have the ceiling replaced in Will's room, and I will patch the floor. However the big improvement will be to the mud room/laundry room.
We will gut and rebuild the mud room/laundry room. We need to insulate the walls, move laundry services, add a laundry sink, have the walls/ceilings covered with drywall, paint and have the floor done.  No problem.  The plan is to be finished by Christmas. Hopefully sooner.
Now back to Craigslist to look for an interesting antique sink for the laundry room.  No point in making things too easy.