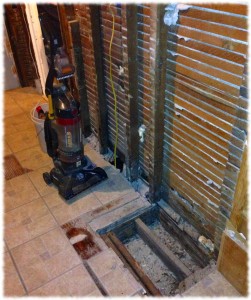 It seems that I finally start getting productive at house projects the week before I have to head out of town for work. Then, when I come back, I have to readjust and it seems to take a while to get back into the same routine.
I've had a busy week and made lots of progress in little steps.  I've been able to get work done right after the boys get to bed, and still be done in time to hang out for a bit before Susanna and I go to bed. Hopefully, when I get back I'll remember to jump right back into the routine.
This week we had the chimney taken out. The chimney went through the mud room/laundry room on the first floor and Will's bedroom on the second. That means, until we get this project finished, we will be short two rooms. The project is a couple of big steps (demolition of the chimney, installing drywall, installing the floor) which we will contract out. But, there are lots of the little details that we will do ourselves. While the walls are down (and Will's ceiling), I'll take time to insulate better and update electrical and plumbing.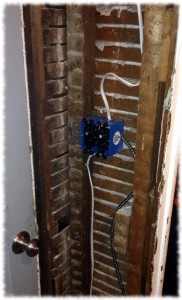 I've been working on the electrical this week. I ran a new wire to the  light over the weekend, and tonight ran a new wire to the back porch light, and added a switch next to the back door. Previously the back porch switch was outside on the back porch – what a pain in the ass. I still have to run a new wire to the kitchen light (while I have access to the space from the ), add outlets and more lights in the /laundry room, and switches to Will's light.
I've also taken time to keep moving on other projects. I spent a couple of evenings cleaning the workshop, and one evening fixing the dog pen.  I'm sure I'll be exhausted by the time I get on an airplane Monday.